As the start of the new school year approaches, I want to highlight a few programs your students can participate in.
Service Academy Nominations
The privilege of nominating Idaho's best and brightest students to our nation's military service academies is an important and enjoyable aspects of being a Congressman. Unfortunately, many young men and women in Idaho are not aware of the tremendous opportunities that await them at the service academies.
Interested students, who are looking for a challenge and have a desire to serve their country at one of our nation's service academies, must complete an application to start the nomination process. Visit my website for more information on this process.
Congressional Art Contest
This annual competition encourages Idaho's aspiring high school artists to join hundreds of other students and showcase their talents to the public.
Students who enter the competition will have a chance to win a trip to Washington D.C. to attend a special reception and see their artwork displayed for one year in the U.S. Capitol Building.
Visit my website to learn about important dates, rules, and other information.
Congressional App Challenge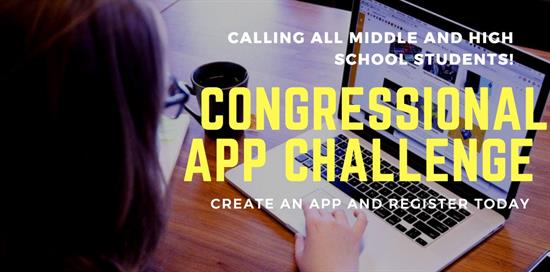 To foster an appreciation for computer science and STEM, the U.S. House of Representatives helps host the Congressional App Challenge.
Interested middle or high school students can become more than just a tech user by creating their own app. Registration is open NOW and will remain open until November 2022. By November, apps must be submitted.
Register and find more information on my website.