Internship Opportunities in Washington, D.C. and Idaho

A Capitol Hill internship provides unsurpassed opportunities to gain experience through the application of academic skills in a highly professional work environment. Interns become members of my staff, with a wide range of responsibilities, for the duration of their stay. The work can be challenging and is usually quite fast-paced. At the same time, I encourage my interns to take full advantage of the unique cultural and historical aspects of our nation's capital.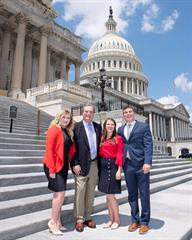 a Intern duties can vary greatly depending on how much responsibility you are willing to take on. An internship is not designed to emphasize what you already know, but your ability and desire to learn something new. I hope my interns will accept the challenge of going beyond their assigned duties to explore unfamiliar territory. Of course, there are some responsibilities that define the role of "intern."

This list should clarify an intern's role as a member of my staff:
Opening and distributing mail
Faxing and copying material for constituents and staff
Answering phones, directing calls, and addressing constituent concerns
Obtaining government reports and other information for constituents and staff
Conducting research on special projects
Assisting with responses to constituent concerns and requests
Some students are concerned that grade point average might be the sole criteria for selection of an intern. Others are concerned that, because they have not been politically active in campaigns or because they are not Pre-Law or Political Science majors, they might not be qualified. This is absolutely not the case. My staff and I deal with a wide range of issues, and everyone has something to contribute to our office.
We are looking for someone with a strong interest in our nation's government who is willing to work hard, and who is ready for an exciting few months in Washington, D.C. If you fit this profile, I encourage you to apply.
I also offer internships in my Idaho Falls office. If you are interested in applying, please call the district office directly.
We are currently accepting applications for interns.
The intern application is available in PDF

The completed application or any questions can be sent to Hannah Neeleman HERE.