National Defense and Military

Protecting Our Nation and Supporting Our Troops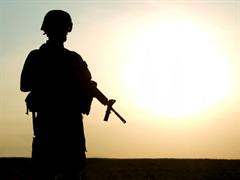 The U.S. military carries out one of the most important responsibilities of government— the protection and security of the American people and their interests. Our military service men and women are committed to securing our nation from those who wish to do us harm and serving our country across the globe. Since the horrific terrorist attacks against our nation on September 11, 2001, they continue to serve in harsh, unforgiving conditions, rooting out our enemies and helping to rebuild war-torn nations.
As we continue to combat terrorism abroad, we must make sure that our nation's military men and women have the resources they need to pursue this dangerous enemy. Since coming to Congress, I have been fully committed to ensuring the needs of our men and women in the military are met and that the federal government's commitments are fulfilled. I am proud to support the military men and women who have fought so valiantly in defense of our nation. Service members have made tremendous sacrifices to preserve our way of life, and the American people are indebted to the men and women who served our nation.


National Defense Authorization Act Community Project Funding Submissions for Fiscal Year 2022

Congressman Simpson has requested that the following project be considered for funding by the House Armed Service Committee in the National Defense Authorization Act for Fiscal Year 2022. Further consideration of this legislation is expected later this summer.


Project Name: Medical Training Facility
Project Location: Boise Air Terminal (Gowen Field), Idaho

Project Sponsor: 124th Fighter Wing, Idaho Air National Guard
Requested Amount: $6,500,000
Description: The 124th Fighter Wing, Idaho Air National Guard, requests $6,500,000 for the construction of a 10,550 square foot Medical Training Facility to provide administrative area, classrooms, laboratories, exam rooms, record storage, and mobility training storage for the 124th Medical Group. The project entails construction of a new building with site improvements to include pavements, utilities, communication support, as well as demolition of 3 sub-standard buildings/7,951 square feet on the site. This project will provide a facility that complies with patient privacy requirements and space authorized for military medical and training functions.
Learn More About: