Social Security and Medicare
Keeping Our Commitments to Seniors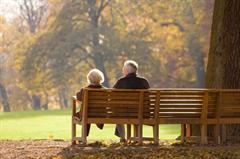 I strongly believe that we have a responsibility, both as a society and as a nation, to care for our parents, grandparents, and neighbors as they advance in age. Like you, I believe that after a lifetime of working and paying taxes, our nation's seniors should know that they will receive the benefits that they have paid for, both in Medicare and Social Security. I remain committed to protecting these programs both for those who are currently in or on the verge of retirement and for those who are paying into the system today and expecting to have benefits in the future.
Idahoans want to ensure that their aging loved ones will continue to be cared for throughout their lives. In the same way, all Americans want to make sure that their children and grandchildren inherit a better nation and world. I know that senior citizens depend on programs like Medicare and Social Security and reducing or eliminating benefits for senior citizens is not an option.
However, if we don't do something to significantly reform programs like Medicare and Social Security, our children and grandchildren, many of whom are working today and investing in these programs, won't see any benefits from this investment. We must take the steps necessary to ensure that these crucial programs continue to provide a safety net to those in need and security to those who depend on them in their daily lives.